All Maryland children deserve chance at a quality education. Maryland parents should have more options when deciding what education setting is best for their children. I'll be sponsoring legislation next session to expand school choice, protect and expand vouchers, and create home schooler tax credits in our state. Sign your name if you agree!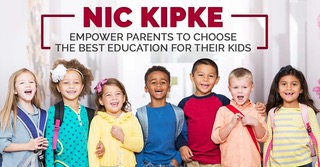 Empower Parents to choose the best education for their kids
"He is by far the most responsive government representative ever. The relationships he's cultivated allows him to get things done quickly."
"Nic has strong conservative and family values.  He is always available to help when needed.  I am excited about the legislation he is sponsoring to expand school choice."
"He is an honest and humble man who strives to obtain the best for all those that he serves. Delegate Kipke is a model public servant that others should attempt to emulate."
"In all the years we've lived in AA County, Nic has been the most caring and responsive representative we have had. He truly cares for what happens in our county as well as making the needs of the residents a priority."
Get the latest news and updates from the campaign